Download your guide to developing a data breach response plan for your business
In Australia, companies that hold sensitive or confidential information about customers have a legal responsibility to keep it secure. Unfortunately, our increased reliance on digital technologies means that this is not a straightforward or risk-free task.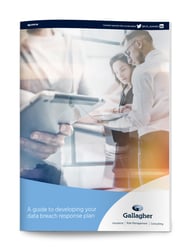 Here's the bottom line: data breaches are expensive, and they're becoming increasingly common. It's no longer a question of if your company will be breached, but when.
In this free guide, we'll show you:
Why you need a data breach response plan

How

to develop a plan for your business

Examples

of data breach response plans

Resources for developing and implementing your plan
When you might need cyber insurance
The notifiable data breach scheme requires a response plan be implemented by all business under the Privacy Act. This became a legal requirement for Australian businesses on the 22 February 2018. Don't leave it until it's too late; fill out the form on the right and start working on your data breach response plan today.