5 tips to master content marketing for your small business
The chances are that anyone in business today has probably heard of content marketing. With the rise of Google and technology platforms including Facebook and Twitter, the idea of using your website or digital presence to connect with and influence potential customers is now widely discussed.
But should you devote valuable time and resources to content marketing?
Many small businesses and sole traders have made powerful use of content marketing. Through telling their own story or their business story in ways that connect with their target market, they are able to pull them into their sales funnel in ways traditional sales techniques struggle to achieve.
By opening up and sharing insights or expertise in engaging and sometimes bold ways, they are connecting with their target market emotionally, as well as intellectually, educating them on what their business and brand stands for, and encouraging them to become paying customers.
US-based fountain pen manufacturer The Goulet Pen Company is one example. In just three years, it was able to grow from a one-man band to a team of 21 by showcasing founder Brian Goulet's passion for fountain pens in a series of video and blog resources on social media.
Does my business need content marketing?
Content marketing can be time and resource intensive. Business owners who start a blog, for example, could find themselves spending a significant amount of time on a weekly basis penning that next post, or may need to engage a writer, which is another cost to the business.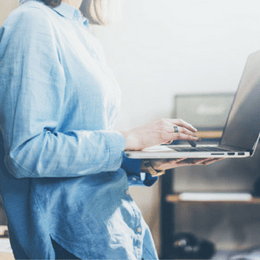 It's also getting more difficult. As the internet gets more crowded with content - even in niche areas - businesses are having to be clearer about what new and unique content will resonate with their potential customers, as well as how to distribute it to reach existing and new audiences.
However, the long-term opportunities could outweigh the initial investment.
Dent Global personal and business branding expert, Glen Carlson, has called content marketing – either writing and publishing your own content, or being published in third party publications as an expert – one of the foundations for business founders that want to build a successful brand.
Also, the tools of the trade – from podcasting, to video, to publishing – have never been more accessible or low cost. So even if it's your own laptop, an iPhone or a WordPress blog, businesses are now able to reach a bigger audience for less if they get content marketing right.
The consensus is that, whether or not your businesses wishes to pursue a content marketing strategy, it's definitely worth considering, as long as you have the right strategy in place.
5 tips for making content marketing work
While content marketing approaches will differ depending on the audience, the size of a business, or the business story you have to tell, there are some common tips that can help. Here are five:
1. Define a strategy: Don't launch a Facebook page or start a blog just because everyone else is doing it. First, you need to know who your target market is and the best way to find them digitally, as well as the type of information you have to share that will be valuable in solving their problems.
2. Make a commitment: Content marketing is a long-term strategy. Nadine McGrath of McGrath Media & Marketing says businesses shouldn't expect overnight results, but instead should be prepared to spend time building an audience and adding value consistently before seeing a return.
3. Quality, not quantity: While quantity may have been a successful strategy in the past, search engine results and social media platforms are increasingly rewarding businesses who deliver quality content that audiences want to read and share. Quality is also a better bet for showcasing your strengths.
4. Be emotional: The best way to connect with your audience is not always with your head, but your heart. Analysis of the types of content that are shared, particularly on social media, show that content with emotional elements are more likely to cut through and resonate with audiences.
5. Own your audience: The Content Marketing Institute in the US continually reminds businesses not to leave their valuable customer audiences to the whims of 'rented land' platforms like Facebook or YouTube, which regularly tweak algorithms and are increasingly 'pay-to-play' rather than 'organic'. Instead, businesses should seek to draw their audiences back to platforms they control (e.g. a website) where they can capture details (e.g. email addresses) for future communications.
Nadine McGrath says business owners should remember that as long as they know their audience's problems, then they have the start to a successful content marketing initiative.
"Content marketing is always about knowing the needs of your target audience," she says. "Ask yourself: who are you targeting, why are you targeting them, and what are the things they want to know?
"When you know what customers are asking, you can set your content plan and go about engaging your audience."
---