Facebook for business: is it really worth all the effort?
Everyone these days is on social media, but for some reason a lot of business owners still struggle with the question: "Is it really worth all the effort of having a business page on Facebook?"
If you're one of them, the answer is a resounding yes! There's definitely value in having a strong presence across social media channels – particularly on Facebook, which has 17 million active users in Australia!
As with any business tool, if you want positive results from Facebook you need to give it some TLC and, more often than not, a dedicated resource. But many businesses experience massive pay-offs by having their Facebook page set up correctly and managed effectively.
Here are four of the positive results experienced by our clients.
Increased brand awareness
One of the most valuable pay-offs from being active on social media is expanding your audience and reaching new customers. You do this by creating new, fulfilling relationships in two ways:
If you get this right, you'll create engagement, promote trust, become more familiar, and generate free word-of-mouth advertising.
If you've got a small advertising budget, Facebook is also a very inexpensive medium to promote your business. It's miles cheaper than traditional print, television and radio, and it's much more targeted. Try investing in a small Facebook advertising campaign – you'll be surprised at what you get back.
Improved search engine optimisation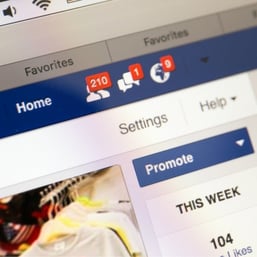 Google keeps its SEO algorithm top secret, but it's accepted as a fact that it analyses your company's presence and footprint on the web to rank the quality of your site for organic (unpaid) search results. So how can you harness social media to improve your organic search results and grow your online presence?
Given the massive audience on social media, Facebook represents an opportunity to engage with them by providing valuable content that they want to like, comment on and share. The goal of fostering this engagement is to send more qualified visitors to your website. Along with increased website traffic and other sites pointing to your website (i.e. Facebook), there's also strong evidence to suggest that Google uses your social media shares and likes in its ranking algorithm.
Being seen as the trusted adviser
It's important for business owners that clients and prospects identify them as their trusted adviser/expert/leading provider in your chosen area of business. Facebook presents a wonderful opportunity for business owners to position themselves as subject matter experts.
Using social media to share useful information and content-rich material enhances your web presence and will help your audience to grow. Content doesn't have to sell or promote your product or service. It should simply be interesting and helpful to people in your target audience. This serves to establish your company as a go-to source for information. You may even attract journalists or bloggers to your expert opinion, which could present massive exposure.
Creating a human voice for your business
Most of us use Facebook to talk to people, not necessarily to an impersonal business. Facebook allows you to humanise your business and create a real voice for it in the market that real humans can communicate with. Interacting and communicating with your social media connections can help you generate a better idea of who your customers are.
Facebook is a platform where you can establish a unique understanding of your customers' likes, dislikes, lifestyles and interests – allowing you to develop new products or services based specifically on needs/demand, and tailor messages that are guaranteed to resonate with a well-understood customer group.
In keeping with this article, you can, of course, follow Access1st on Facebook!
---
About the author
This article was written by Rhys Kerr from Webfirm – Access1st's digital marketing and web development partner. Webfirm offers a range of free and discounted services for Access1st partner associations and their members. Full details behind your association or client log-in.
Read Rhys' previous article about boosting your B2B online leads here.
A version of this article first appeared in NIBA's Insurance Adviser magazine.
---