ACCESS1st association professional magazine
Access1st Professional Benefits has launched a new publication aimed at association managers across Australia, with the inaugural issue of Association Professional magazine launching in May.
The magazine is packed with useful content aimed at helping associations to better connect with their existing members, as well as attracting new members in an increasingly competitive association marketplace.
The launch issue contains some great content addressing a range of common issues faced by association professionals, including:-
Thought leadership and innovation in associations
Member benefits that make a difference
How to master content marketing and video content
Cyber security for associations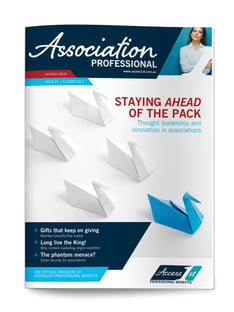 There's also a Q&A with Mary-Louise Parkinson, the President of the International Yoga Teachers Association, who discusses common challenges in the association sector.
Christine Osborne, who heads up Access1st, said: "We place a very high importance in helping our association partners enhance their member value proposition, and Association Professional magazine is just a part of that.
"There aren't a lot of publications out there aimed at association managers, but it's such a vibrant sector we wanted to do what we can to share some best practice examples and encourage other associations to consider other ways of engaging with existing and potential members."
Get your free copy of Access1st Association Professional magazine today!
If you'd like to get hold of a copy of Association Professional, it couldn't be easier. It's available for a free download, which takes just a moment.
Meanwhile, if you'd be interested in taking part in our 'Association Life' Q&A feature, please email us directly.